Category:
Dog Parks
Dog Parks In Panama City Beach Florida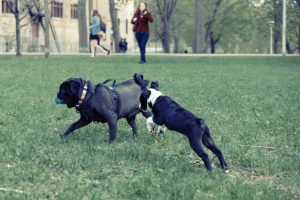 Dog Parks Lovers, Ahoy there, pet friendly friends and fellow pet-lovers! Do you find yourself daydreaming of taking your beloved furry friend on a wild adventure? Well, shiver me timbers, have we got a treasure trove of a pet friendly hidden gem of dog parks for you! Introducing the amazing Frank Brown Dog Parks – a true paradise for dogs of all shapes, sizes, and energy levels. And let me tell you, this place is no mere walk in the park.
More Than One Dog Parks
With not just one (LAZY DAWG ZONE PARK), not two (PARTY DAWG ZONE PARK), but number three (LAKESIDE DOG PARK) different fenced areas, your pup will have FREE reign to frolic, play, and meet new furry friends to their heart's content. There's something for every type of pup personality here – whether your four-legged friend loves to run around and chase after balls, or prefers to laze in the cool grass and soak in the stunning views (and believe us, the vistas here are doggone incredible).
Furry Friends
If you and your furry first mate are feeling extra adventurous and want to explore the dog park's natural beauty, why not take a stroll along the two-mile trail? The sights, sounds, and smells of the great outdoors will have your pup barking with excitement in no time. Just remember, as any responsible dog owner would, to clean up after your pup (arrrf). So, what are you waiting for? All aboard – come and experience the tail-wagging great time that is Frank Brown Dog Parks! Trust us, your furry matey will thank you for it. Location: 16200 Panama City Beach Pkwy, Panama City Beach, FL 32413
Frank Brown Dog Park Rules
Please be advised that there are designated areas for dogs, and their use is at your own risk.
It is essential to follow all the rules and regulations set in place.
Dog owners must ensure that their dogs observe good behavior, and they are responsible in case of any incident.
It is mandatory to clean up after your dog by properly disposing of their waste.
Make sure that your dog is up to date with its shots and always wears an I.D. tag.
Also, avoid bringing female dogs younger than four months or in heat.
A maximum of three dogs per person is allowed.
Dogs and their owners creating problems must leave if requested.
For dogs that have caused harm in public parks, they must wear a muzzle, or they will not be permitted.
It is not allowed to have food in bowls or long-lasting chew toys.
Always supervise your dog and avoid leaving it with children.
With the exception of ADA Compliant service animals, dogs are not permitted in the Baseball Field Complexes or on athletics fields.
Sunset Tails at Pier Park's Beach-Side Haven For Dogs

In the heart of the bustling paradise of Panama City Beach Fl along the pristine shores, a haven of wagging tails and joyful barks known as Pier Park's Dog Friendly Park. As the sun dipped below the horizon, casting hues of orange and pink across the sky, a tale of camaraderie and canine delight unfolds.
Pier Park's Dog Parks was more than just a place for dogs to romp; it a haven for friendships both furry and human. The park's sandy expanse stretched right up to the water's edge. Of course, allowing the dogs to frolic on the beach, chasing waves and bounding through the sand. This beach side retreat became a hub of social activity where dog owners gathered to share stories, laughter, and a deep appreciation for the bond between humans and their four-legged companions.
At sunset, the park transformed into a spectacle of joy and togetherness. Families and individuals, locals and tourists, all convened as a colorful tapestry of dogs raced along the shoreline. Golden Retrievers chased freebees into the water, while dainty Poodles twirled gracefully in the sand. Even the grizzled old Labrador found the vigor of his youth as he joined in the chase with a pack of spirited pups.
One evening, a new duo arrived at the park – Lily, a spunky Cocker Spaniel with a penchant for mischief, and her owner Alex, a young woman with an infectious smile. Lily's enthusiasm was evident as she dashed around the park, making new friends with every joyful leap. It didn't take long for Alex to strike up conversations with other dog owners, and soon enough, she found herself woven into the fabric of the park's community.
Rules for dog on the beach include:
All dogs must stay within the confines of the Dog Beach; signage is posted.

All dogs must be current on shots and wear ID tags.

All dogs must be kept on leash or under voice command

No more than three dogs per person.

Do not bring dogs younger than four months old.

Do not bring female dogs in season. It is preferred that all dogs on the Dog Beach be spayed/neutered.

Do not bring food bowls or long-lasting chewies.

Dogs or owners creating a problem will be asked to leave.

Owners MUST pick up after their dogs and placed in disposal stations.

Dogs with a history of biting in public areas must wear a muzzle or are prohibited.

Never leave a dog unattended or with children. Adult supervisor is required.

Use of the Dog Beach is at your own risk. Owners are responsible and liable for the actions of their dogs.

All users of the Dog Beach are encouraged to supervise children closely.
No other animals are allowed on the beach and dogs are not allowed on any other part of the beach, except for service animals. 
As the sun painted the sky with its brilliant hues, a collective feeling of gratitude settled over Pier Park's Dog Park. With the sound of waves lapping against the shore and the laughter of children playing, the park seemed to emanate a sense of serenity and belonging. The dogs, as if in tune with their human companions, showcased their own bonds of camaraderie.
Over time, the sunsets continued to weave their magic, painting stories of friendships formed and adventures shared. Pier Park's Dog Park became more than just a place – it became a cherished memory etched into the hearts of everyone who stepped foot on its sandy shores. And as each day closed with a breathtaking sunset, the bonds between dogs, humans, and the beach grew stronger, mirroring the beauty of the setting sun.
And so, under the canvas of Panama City Beach's skies, the tale of Pier Park's Dog Park remained eternally intertwined with the stories of its visitors, the sandy paws that graced its shores, and the laughter that echoed in harmony with the waves. Location: 33753-000-000, Panama City Beach, FL 32413
Public beach access points 56, 57 and 58.
Now with this great short story and locations to your favorite dog parks, be sure to check our pet friendly accommodations located in a quite area off south Thomas Drive with Beach access right out your front door within a minute.